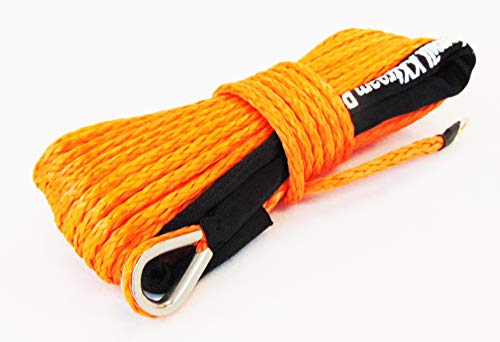 Is synthetic winch rope better than cable?
Synthetic Winch Rope
, made of high standard heavy-duty nylon synthetic material with solid metal loop. 
This synthetic winch rope is extremely lightweight, high capable,  safer and more stronger than steel wire rope. Its perfectly suitable  for  ATV UTV
 , SUV,  KFI, Truck and Boat.  Comparing with  steel wire ropes, synthetic winch ropes are lighter in weight but stronger in tension, safer to operate during work, stronger, and avoid cause to form a sharp twist or curve.
How Use Synthetic Winch Rope ATV |  UTV  | SUV?
Synthetic Rope is considerably safer than steel cable and is now mandatory in most major All Terrain Vehicle (ATV)  ,  Utility Terrain Vehicle (UTV), Sport Utility Vehicles (SUV), Synthetic Winch Rope for Tow Truck   off-road and on-road  events. ATV Synthetic Winch Rope and UTV Synthetic Winch Rope is much lighter than steel, so it'll cut down on weight. It is also generally twice as strong as steel cable. The layer of the surface is synthetic winch rope is coated with a unique coating polyurethane material with the black protective sleeve, so that the rope has more  higher friction resistance and stronger pulling force.Heavy Duty Strength Nylon Cable 1/4 inches x 50 ft synthetic winch rope  which is rust and waterproof, effective water resistance, chemical and weather resistance, uv protection, moisture and corrosion resistance.  It is including metal eye guard, sheath, heavy duty snap Hook and rubber stopper. 
Is Synthetic Winch Rope Safe?
Winches don't action without a synthetic rope or cable. The problem is moving a vehicle that using a winch with a steel cable amount of loads a very small and elastic structure with a huge extent of weight. That weight turns into kinetic energy, a type of force that can be  hazardous to humans if it is released suddenly. The concept behind using synthetic rope in a winch is that the  rope under load has greatly less weight, and thus much less kinetic force. So, at the time of steel cable breaks , when the kinetic force is released uncontrolled way . But Synthetic Rope much less damage to nearby things including people than steel cable does.
Can You Use Synthetic Rope On Steel Cable Winch?
Yes, you can put synthetic rope on a winch intentionally designed for steel cable. Nevertheless, the brake drum in the winch might not be capable to cool as well because steel cable performance  like a heat sink, while synthetic rope may act greater like an insulator trapping heat. Heat can loss synthetic rope not to clarify  the winch. Some ropes like Warn's  Synthetic rope has a few options that help it share with heat better than formal winch ropes.
Is This Universal Synthetic Rope?
This is a broad-minded universal product (winch synthetic rope) for most winches on SUV, Jeep, Truck, ATV, UTV, etc, including Smittybilt, Warn, ARB, AC-DK, OPENROAD, TYT, Power winch, etc.
 Check out this product on Amazon Store  ->  synthetic winch rope amazon